Radiation transfer for
vicarious calibration
Rayference is an Earth Observation R&D company led by Yves Govaerts providing technical and scientific expertise in 1D and 3D radiative transfer, both in the atmosphere and at the surface, and inverse modelling. This expertise is applied in areas such as retrieval of aerosol and surface properties from space observations, vicarious calibration, fundamental and thematic climate data record generation or sensitivity analyses for the preparation of new space missions and associated services.
Portfolio
Radiation transfer modelling
Rayference proposes a suite of atmospheric and surface 1D and 3D radiative transfer models to perform sensitivity analysis, vicarious calibration, numerical algorithm design or look-up table generation.
Example of simulated 3D canopy
The 3D radiative transfer code Raytran is used to simulate Bidirectional Reflectance Factor (BRF) over complex scene which are described with a set of geometrical objects. Raytran also allows simulation of in situ observations.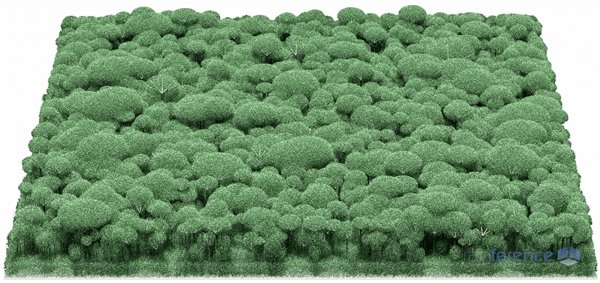 Example of 1D simulation
1D simulation over dense vegetated surface in the red spectral region in the principal plane at the top-of-atmosphere (blue curve), bottom of atmosphere (green curve) and without atmosphere (red curve).
Vicarious calibration
Rayference is using simulated top-of-atmosphere reflectance of desert sites to perform radiometer (cross-)calibration with an accuracy of about 3 to 5%.
Scientific algorithms: Inverse modelling
Rayference is specialized in the joint retrieval of surface reflectance and aerosol properties joint retrieval. As surface reflectance and aerosol scattering are radiatively tightly coupled, the joint retrieval is the most promising approach over land surfaces. The figure shows an example joint surface BiHemispherical Relfectance (BHR) in the 0.6μm spectral region and Aerosol Optical Depth (AOD) at 0.55μm from MSG/SEVIRI observations acquired on 2 March 2004 (Govaerts et al, 2010).
Defining operational services
Rayference provides support and advices for setting up operational services based on the exploitation of space-based observations.
About us
Yves Govaerts
Yves Govaerts has more than 20 years of experience in the design of algorithm for the operational retrieval of geophysical products. He has worked on the preparation of ATBDs, satellite data calibration, algorithm prototyping, product validation and documentation in the context of the retrieval of land surface and aerosol properties from geostationary observations. He has a solid experience in the development of 1D and 3D radiative transfer models and optimization methods. Finally, he has been involved in the generation of climate data record such as surface albedo from all available geostationary observations. He founded Rayference in 2013.
Marta Luffarelli
Marta Luffarelli has a M.Sc in Electronic Engineering in 2016 from Sapienza University of Rome. Her studies focussed on remote sensing and telecommunication. She developed her master thesis at Telespazio VEGA Deutschland Gmbh in Darmstadt, Germany. During her stay at Telespazio she worked on the Sentinel-2 Level-2A processor, developing scientific software and gaining experience in scene classification and atmospheric correction. Marta joined Rayference in March 2016.
Sophie Villerot
Sophie Villerot graduated from the Physics Laboratory at Ecole Normale Supérieure (ENS) de Lyon in 2012, with a Ph.D. on quantum models of vortices in turbulent superfluids. After her Ph.D., she worked for three years as a research engineer on the ARAHMIS code, at the Atmospheric Optics Laboratory in Lille (France). In this project, she developed a new algorithm for radiative transfer at high-spectral resolution, which aims to include most of the physical phenomena happening between the satellite sensor and the targeted surface. She joined Rayference in May 2016 where she is working on the calibration of the Sentinel-2/MSI radiometer.
Cedric Goossens
Cedric Goossens obtained a M.Sc. in Physics and Astronomy in 2013 from Ghent University and a M.Sc. in Space Studies in 2015 from the Catholic University of Leuven. His studies focussed on space and its scientific exploitation. After his studies, he worked as a software engineer for Spacebel on the development of spacecraft orbital and environnemental simulators. He joined Rayference in January 2017.