Radiation transfer for
new Earth Observation
mission design
Rayference is an Earth Observation R&D company led by Yves Govaerts providing technical and scientific expertise in 1D and 3D radiative transfer, both in the atmosphere and at the surface, and inverse modelling. This expertise is applied in areas such as retrieval of aerosol and surface properties from space observations, vicarious calibration, fundamental and thematic climate data record generation or sensitivity analyses for the preparation of new space missions and associated services.
Portfolio
Radiation transfer modelling
Rayference proposes a suite of atmospheric and surface 1D and 3D radiative transfer models to perform sensitivity analysis, vicarious calibration, numerical algorithm design or look-up table generation.
Example of simulated 3D canopy
The 3D radiative transfer code Raytran is used to simulate Bidirectional Reflectance Factor (BRF) over complex scene which are described with a set of geometrical objects. Raytran also allows simulation of in situ observations.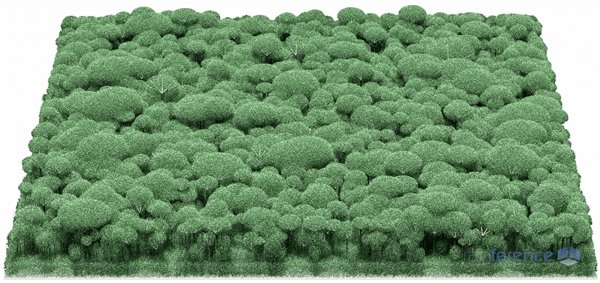 Example of 1D simulation
1D simulation over dense vegetated surface in the red spectral region in the principal plane at the top-of-atmosphere (blue curve), bottom of atmosphere (green curve) and without atmosphere (red curve).
Vicarious calibration
Rayference is using simulated top-of-atmosphere reflectance of desert sites to perform radiometer (cross-)calibration with an accuracy of about 3 to 5%.
Scientific algorithms: Inverse modelling
Rayference is specialized in the joint retrieval of surface reflectance and aerosol properties joint retrieval. As surface reflectance and aerosol scattering are radiatively tightly coupled, the joint retrieval is the most promising approach over land surfaces. The figure shows an example joint surface BiHemispherical Relfectance (BHR) in the 0.6μm spectral region and Aerosol Optical Depth (AOD) at 0.55μm from MSG/SEVIRI observations acquired on 2 March 2004 (Govaerts et al, 2010).
Defining operational services
Rayference provides support and advices for setting up operational services based on the exploitation of space-based observations.